Recycling & Waste
2022 Loraas Recycling Schedule & Collection Map
---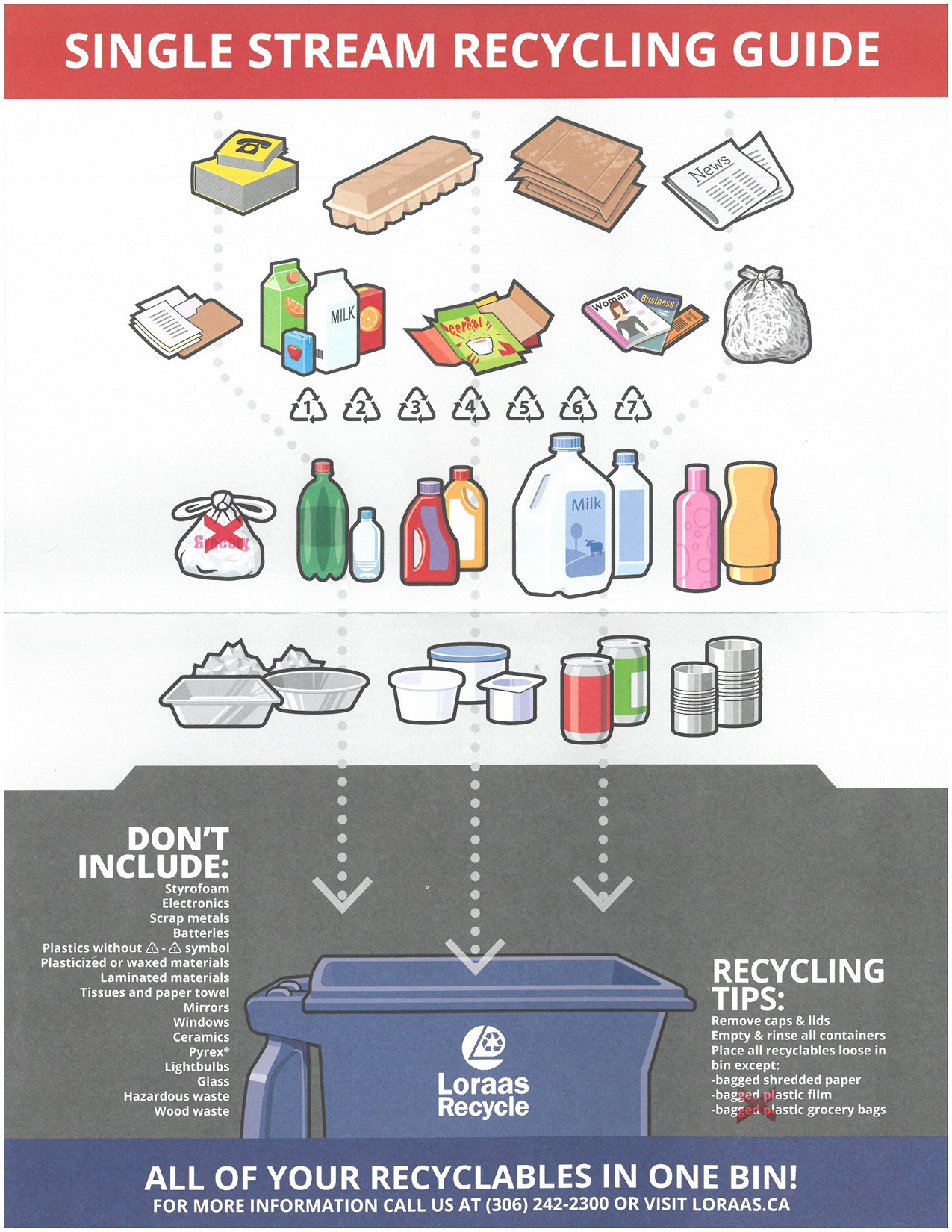 Landfill Hours:

Summer Landfill Hours
May 1st to September 30th 
Tuesdays to Friday  10:00am - 12:00pm & 1:00pm - 6:00pm
Saturdays  9:00am - 12:00pm & 1:00pm - 5:00pm
Closed on Sunday & Monday

Winter Landfill Hours
October 1st to April 30th
Tuesday and Thursday 1:00pm - 5:00pm
Saturday 9:00am - 12:00 pm & 1:00pm - 5:00pm
Closed on Sunday, Monday, Wednesday, and Friday


Landfill Phone - (306) 860-7576

Price List
Tree branches, tree trimmings, trunks (excluding stumps), clean fill dirt, and compostable material
FREE
Chesterfields, sofas (love seat style chairs, recliner) mattresses
$10.00/Unit
Carpet (max roll size 400 sq. ft.)
$10.00/Roll
White Goods (fridges, stoves, deep freezers, washing machines, dryers, etc.) Fridges must have refrigerant removed (certificate of removal must be shown)
$10.00/Unit
Scrap Tires
No longer accepted
Passenger/light truck & small industrial
$9.00
Medium Truck & Implement (up to 20")
$18.00
Agriculture over 20" (includes rear Ag & Grader)
$30.00
OTR (20.5 X 25 and up)
$75.00 and up

Large Loads including the following Materials

*100% Surcharge charged to Mixed Loads

All other wood waste
All concrete rubble, rocks or dirt with large pieces (anything over 2 inch in diameter)
Any mixed loads that cannot be sorted (ie. Steel mixed with wood and or wire, household waste or rubble or any combination of above)
Asphalt, fiberglass painted wood, shingles, or any type of asphalt roofing, as well as gypsum board (drywall) of any type.

Trailler/Roll Off
$600.00/ 20 cu. yard
Truck Box/Trailer (tandem)
$360.00/12 cu. yard
Truck Box/Trailer (3 Ton)
$180.00/6 cu. yard
Truck Box Trailer (1 Ton)
$90.00/3 cu. yard
Truck/Trailer (1/2 Ton)
$30.00/Half ton truck
All other/Smaller than 1/2 ton sized trailers (Min charge)
$30.00

Material containing Asbestos (must be sealed in bags; maximum bag size 35" x 50") $300.00/ton PLUS $100.00 per hour for disposal ($120 min. charge)

All of the above fees include GST.