Outlook - Town History
As two men stood awestruck, standing on the edge of a colossal valley expanse staring down at the fierce river rushing below them, time stopped for a moment. Silence stirred over the wildly raging South Saskatchewan, broken by one man who emblazoned the words which would forever mark the beautiful sight the two CPR officials beheld. The silence of that single moment, "What a wonderful outlook!" still ring true for the scenic riverside Outlook is now built upon. Water and power were to be derived from the mighty Saskatchewan river while the rich soil and railroad would provide all other necessities. Bidding in Outlook ran higher than most, with the CPR claiming $68 000 for only 500 lots. All day and night, two and four team horses freighted lumber, coal, machinery, groceries and hardware across the prairies to the new town.
Buildings sprouted up overnight, stocks were rushed in, three banks were established along with a Post Office. In one month, Outlook had made more headway than the majority of new towns would make in a year.
On November 23, 1908 the citizens of Outlook welcomed the first train. Within the month the CPR had provided tri-weekly train service carrying huge piles of lumber. The supply of workers and materials was hugely outweighed by the demand for more buildings. On November 19, Outlook had become a thriving village. In less than a year, (November 1, 1909) Outlook would be officially declared a town.
---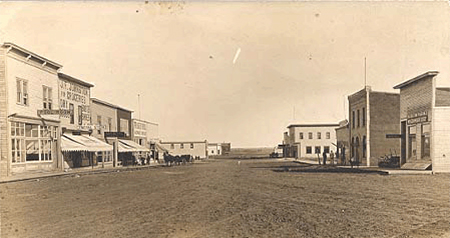 Outlook Main Street
A look into the past, Outlook's main street! The dream of such a riverside town was realized on August 26, 1908 when the auction of lots commenced. Investors were curious from the onset as Outlook became a gateway to the west equipped with a huge railway station centered in one of the most beautiful spots on the prairies.
---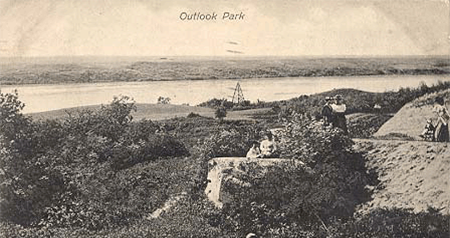 Outlook Park
This well treed campground is a great place to spend with the family. Try a round at the RiverView Golf Club located on the south end of the park along the river, and the many hiking trails in the park will keep you busy during your stay. Where will the trails take you?
---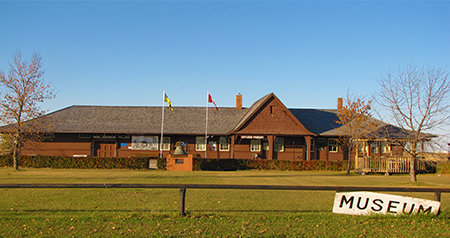 Outlook & District Heritage Museum
The Outlook & District Heritage Museum is a must see. Located in a former railroad station, stepping into the aged CPR terminal is like stepping back in history. The museum took over the old CPR station in 1992 and was officially opened on June 5th, 1993. The station was built in 1909, less than a year after the settlement of the town. It is filled with numerous interesting artifacts and photographs and there's always someone available to give the story behind each one. The Museum has over 3000 items and most of them are directly linked to someone who lived in Outlook or the surrounding area.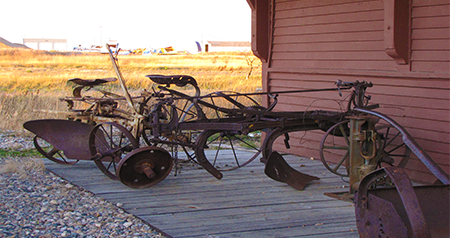 ---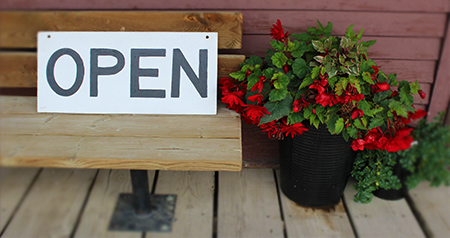 Hours of Operation:
Open by appointment only. Contact Kate (306) 280-2633