Sightseeing / Attractions
Located on the banks of the South Saskatchewan River and only a short drive from Lake Diefenbaker, Outlook is a perfect place to make your home or enjoy your vacation! With the largest irrigation project in the province, Outlook has diversified its strong traditional agriculture base to become "Saskatchewan's Garden."
---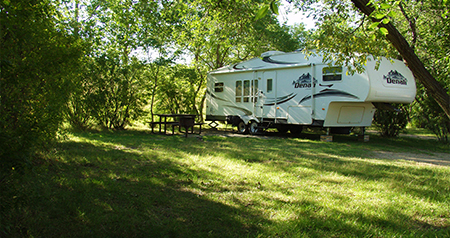 Outlook has various accommodations choices, one of which is this campground! It is very well treed and offers various recreational opportunities- whether you enjoying canoeing, golfing, or hiking, these activities are right at your fingertips! Website
---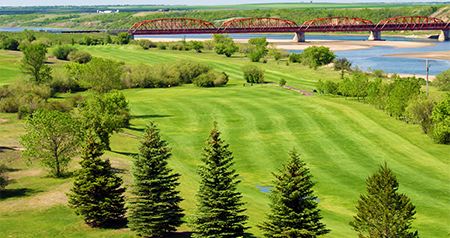 Outlook is fortunate enough to have some beautiful views of the river, but what makes Outlook even more fortunate is to have a beautiful golf course on the river banks of the South Saskatchewan River. Breath-taking views and this well-kept golf course await you! Website
---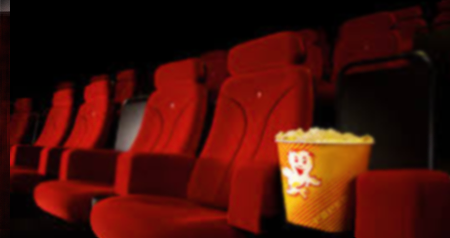 231 Franklin Street, Outlook
Outlook Reel Theatre invites you to grab some popcorn, a pop and sit back in the newly installed theatre seats and enjoy a movie! Newly installed digital sound makes this theatre standout from many other small town movie theaters!
Monday, Wednesday, Thursday, Friday and Saturday - Adults $10.00, Youth $8.00 and Children under 12 $6.00; three and under free.
Cheap Tuesday - $ 5.00 Admission for Everyone!!
All movies start at 7:30 sharp. Movie show on Friday, Saturday and Tuesday at 7:00 pm Website.
---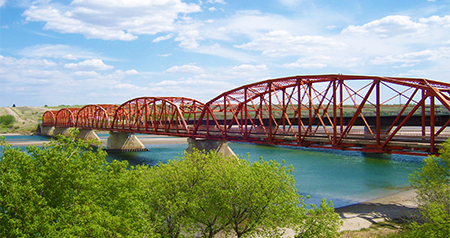 B.O.B (Big Orange Bridge)
Take in the breathtaking river view that B.O.B offers! Walk across B.O.B. and watch the water flow beneath your feet!
---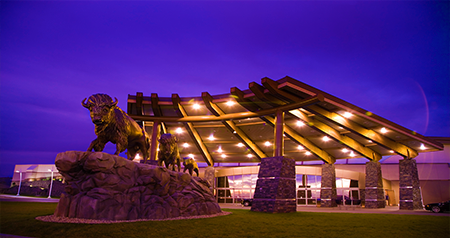 The Dakota Dunes Casino is located on the historical Whitecap First Nation, 20 minutes south of Saskatoon, Saskatchewan, on highway 219. Located on a hilltop at the height of the South Saskatchewan River Valley Basin, the Dakota Dunes Casino offers a magnificent view to go with top-notch entertainment. The beautiful Vegas-style casino is sure to wow visitors from all over the world. Website.
---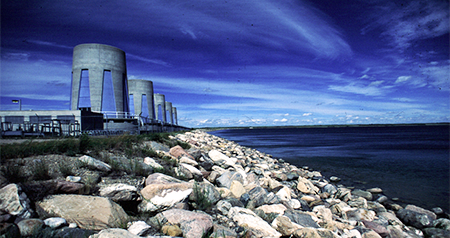 Gardiner Dam Spillway
Gardiner Dam Spillway, one of the worlds largest earth filled dams right here in Saskatchewan! Gardiner Dam is located 38 kilometers south of Outlook which makes this a nice way to spend an afternoon. Check out the Gardiner Dam Interpretive Center, grab some ice cream, spend a day at the beach and if you're lucky the spillway will be running. Watch the water race down the spillway, it is AMAZING to see!
---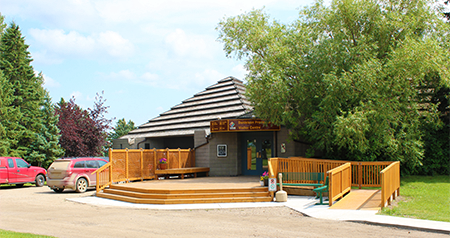 Drive across Gardiner Dam, the largest earth filled dam in Canada. Visitor Centre, adjacent to the dam, features visual interpretive displays on the dam, souvenirs, food service, and a not-to-be missed vintage film on the construction of the dam. Public beach, picnic facilities and camping at nearby Danielson and Douglas Provincial Parks. The grounds of the Coteau Creek Generating Station just below Gardiner Dam offer a great vantage point for spotting pelicans and Canada geese.
Gardiner Dam is situated on the South Saskatchewan River just 40 kilometers south of Outlook, Saskatchewan. Gardiner Dam is the third largest embankement dam in Canada and one of the largest embankment dams in the world! 1959 is when the construction of Gardiner Dam commensed, and finised up 8 years later in 1967. The creation of Gardiner Dam resulted in the creation of Lake Diefenbaker. Gardiner Dam rises 64 metres (209 feet) in height, is almost 5 km (3.1 mi) long and has a width of 1.5 km (0.93 mi) at its base with a volume of 65,000,000 cubic meters. Very impressive!
5 Fun Facts about Gardiner Dam:
Lake Diefenbaker supplies water to more than 450 Saskatchewan farmers who irrigate wheat, barley, alfalfa, canola, corn and a variety of pulse crops.

Further downstream, the Saskatchewan Water Corporation withdraws water from the river just south of Saskatoon to supply the town of Vanscoy, two potash mines, two golf clubs and several individual water supply systems!

Water from Lake Diefenbaker is also released through the smaller Qu'Appelle River Dam to improve water supply and quality in the Qu'Appelle River System. Without this boost, Buffalo Pound Lake in the Qu'Appelle couldn't begin to meet the water supply needs of Regina, Moose Jaw and Kalium Chemical Potash Mine at Belle Plain!

The rest of the water? About 90% is released through the turbines of the Coteau Creek Hydroelectric Power Station at Gardiner Dam to produce electricity and to provide a steady downstream flow!

Water from Lake Diefenbaker goes a long way!
More than 450 Farmers

Cities of Regina, Moose Jaw, Saskatoon, Town of Elbow, Hanley, Guernsey, Lanigan, Outlook, Vanscoy, St. Lous and R.M. of Dundurn use water for the municipal water supply.

3 Provincial Parks, 4 Regional Parks, several resort villages, yacht club at Elbow Harbour, Blackstrap Lake Development

Coteau Creek Hydroelectric Power Station, Squaw Rapids Hydroelectric Power Station, Nipawin Hydroelectric Power Station

Sport and commercial Fishermen and waterfowl habitat projects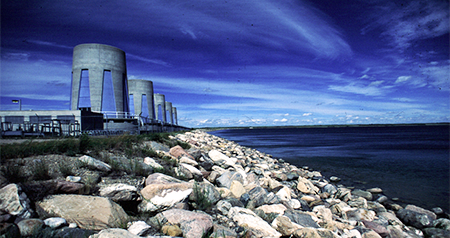 A view of the Gardiner Dam Turbines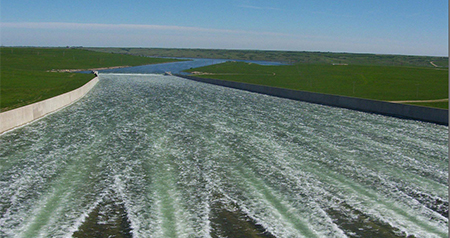 Gardiner Dam spillway, water rushing down! Coteau Creek Power Station, generators produce electricity!