SkyTrail Pedestrian Bridge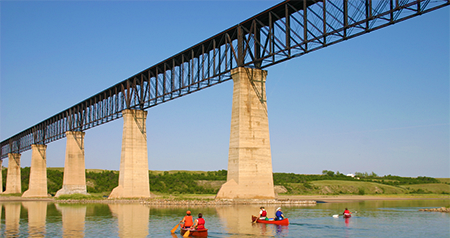 (Closed)
Unfortunately our Sky Trail is closed indefinitely. The Sky Trail is Canada's longest pedestrian bridge spanning over 3,000 ft and standing over 150 ft above the South Saskatchewan River. The spectacular view from the top of this prairie sentinel stretches in every direction and changes with every season. Used for rail traffic until the mid-1980s, the bridge, when re-opened, will again become part of the Trans-Canada Trail.
History of the Bridge
The contract for the Canadian Pacific Railway bridge was awarded January 24th, 1910 to J.D. McArthur and Company. After the Provincial Government decided not to build an attached traffic bridge, the work began. The C.P.R. then decided to re-machine the steel from the old Lachine Bridge in Quebec to use in Outlook. When the birdge was completed in spanned three quarters of a mile long and over 156 feet high and cost one million dollars. This structure would then be the second largest railway bridge in Canada. The bridge formally opened on October 23rd, 1912 with the first train to cross coming from the west. The last officialy train to cross the bridge was on March 16th, 1987.
Rails to Trails
This magnificent structure stood silent until recently when the Canadian Pacific Railway donated it to be used in a segment of the Trans Canada Trail. Fortunatly, a program was avilable in the form of CME 2003 "Bridges for Canada", the national program celebrating the centennial of the military engineers. Under the program, the engineers supplied labor to convert the bridge, and the community was responsible to supply the materials.
Ther conversion began on September 22nd, 2003 with the arrival of the members of the 33rd Field Engineer Squadron, along with the help of local volunteers by early December the conversion was completed!
The bridge was officially opened on May 15th, 2004 by Her Honor, the Honourable Dr.Lynda Haverstock, Lieutenant Governor of Saskatchewan. The view is spectacular and is a bird watcher's delight as Outlook is situated along the North American Central Flyway for migrating birds!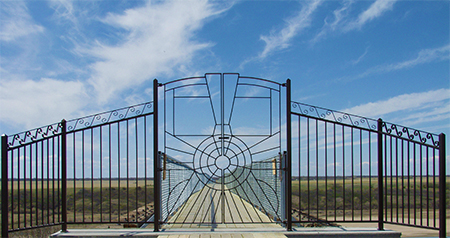 The beautifully designed welcome gates at the SKYTRAIL bridge