HealthCare
Outlook boasts some very important services such as our Outlook & District Health Centre with Acute care beds, level 4 Long term care facility, Medical Clinic, Public Health, and Home Care.
Outlook Medical Clinic Information:
Outlook Medical Clinic
500 Semple Street
Outlook, SK S0L 2N0
Phone: (306) 867-8626 Fax: (306) 867-8988
Office hours - Monday through Friday - 9:00 a.m. - 12:00 p.m. and 1:00 p.m. - 5:00 p.m.
Dr. Mynhardt
Dr. Harandi
Dr. Sodhi
Dr. Gharaei
Family Pracitioners
By appointment only
EMERGENCY 9-1-1 | POLICE 1-306-867-5440 | HOSPITAL 1 -306-867-5020
Health Care Center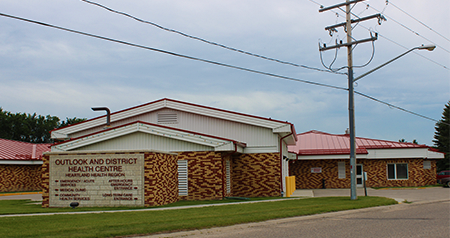 Outlook also has the services of Physiotherapists, a Dental Clinic, an Optometrist, Chiropractor, Massage Therapy, Counseling Services, as well as a Private Seniors Home. Visit our Business Directory for more information.