Clubs and Groups
Whatever your interest - Outlook has something for everyone!
Contact the Town Office to have your listing added to this site!
Interested in joining our Recreation Committee? We're looking for residents who are passionate about all things sport and activity to provide input, make recommendations, and help shape the future of what Recreation and Culture looks like for Outlook. Interested individuals are encouraged to submit a short application which can be found here.
Questions? Contact the Recreation Department by Email or phone 306-867-9555
Arts & Culture:
Outlook & District Arts Council
As a member of the Organization of Saskatchewan Arts Councils (OSAC) touring exhibitions as well as local art are featured at the Gallery of Outlook. The Gallery of Outlook is in the Town Office Building at 400 Saskatchewan Avenue W. Watch for information on the various upcoming shows. For further information contact: Suzanne Hebert by Email or phone (306) 867-7505
Equinox Theatre
Outlook's own very busy theatre group provides entertainment at least twice a year. If you are interested in joining you can visit our Facebook Page, Follow us on Instagram at: equinoxtheatreoutlook or Email us.

Outlook School of Dance
En Pointe Studios. Offering dance to ages 3+ years. Vibrant and young School of Dance offering many disciplines of dance including Ballet, Tap, Jazz, Lyrical and Modern. For more information please visit our Facebook Page or Email us.
Business:
Outlook & District Chamber of Commerce
The Outlook and District Chamber of Commerce is an organization to promote all businesses in Outlook and provide a networking opportunity for those business owners. They meet on the 4th Wednesday of every month. Their slogan is "Locally Minded - Locally Supported" and they work with other groups in the community to help make Outlook a better place to live, work and do business. For more information, Please Email or visit their website
Fitness:
Walk This Way
Safe indoor walking and exercises at the Outlook Jim Kook RecPlex, 600 Conquest Ave. on Tuesday's and Thursday's from 9:00 a.m. to 10:00 a.m. Classes are led by a certified Exercise Therapist.
Seniors:
Outlook and District Heritage Centre
The Heritage Centre on Railway Avenue West and is set up as a recreational and meeting area for seniors 50+.
Tuesday's - Kaiser at 1:30pm
Wednesday's - Pool at 1:00pm; Games at 1:30pm
Thursday's - Bridge at 7:00pm
Friday's - Pickleball at 1:30pm
Saturday's - Crib at 1:30pm

Drop in for coffee for $2 every Monday & Friday between 9:30am - 11:00am. All are welcome!
If you are interested becoming a member at the Heritage Centre, Contact President, Leo Whyte by email or phone (306) 867-9688, or Mary Faye Kennedy at 306-867-9311.
For Hall Rentals contact MaryFaye Kennedy at 306-867-9311
Service Groups and Clubs:
Outlook - Rudy Fire and rescue
Outlook-Rudy Fire & Rescue is based in the Town of Outlook working from the Firehall located at the intersection of McKenzie St and Saskatchewan Ave.
The Fire & Rescue crew consists of 18 volunteer members from the community. Our members have varying degrees of training and experience in many different aspects of fire and rescue disciplines. They respond to a variety of different emergency situations including structure fires, grass/wild-
fires, motor vehicle collisions/accidents as well as medical calls when requested.
Outlook-Rudy Fire & Rescue are proud to serve the communities of the Town of Outlook, RM of Rudy, Village of Broderick and Village of Glenside, we also have mutual aid agreements with other fire departments in the area. Their
fleet includes an urband fire engine, rural fire engine, aerial/ladder truck, rescue van, rapid response vehicle, rescue boat, and ice rescue boat. Training is ongoing, whether it is in house, through private contractors, or the Saskatchewan Volunteer Fire Fighters Association, a group which we are proud to hold membership with.
Our meetings and practices are the 1st and 3rd Tuesdays of every month.
Outlook-rudy fireflies
The Outlook-Rudy FireFlies is an auxiliary group comprised of spouses of members of the Outlook-Rudy Fire & Rescue. Officially formed in 2023 the group promotes safety initiatives and visibility for first responders while engaging the community through events and activities. Our meetings are the first Thursday of each month. We are open to new volunteers anytime!
Co-chairs Jenna Hope and Laura Jones
Reach us on Facebook or Email us!
Outlook Kinsmen Club
The Kinsmen Group of Outlook is a group of community minded people that enjoy socializing and volunteering.
Our Motto: "Serving the Communities Greatest Need"
Meetings are held the 1st and 3rd Wednesdays each month at the Outlook Civic Centre.

President: Jill Desjarlais; Secretary: Warren Larson (306) 860-7619
For More information, Feel free to contact us through Email or visit us on Facebook
Open to new members at any time!
Knights of Columbus
Catholic Men's Organization serving the Outlook & Davidson Catholic church communities.
Contact: Dave Alm at (306) 867-7883 or by Email
Royal Canadian Legion - Branch 262
The Outlook Legion is a service organization that exists to support Veterans and the local community, including our youth. Regular Meetings are held at 7:30 p.m. on the Third Wednesday of each month (except July and August) in the Legion Hall (Bratton Room) on Thomson Street. Anyone who is a Canadian citizen is invited to join this active service group.
The Legion hosts social events throughout the year.
The legion hall is available to rent. The hall includes a large updated kitchen, TV and sound system. Bar service may be requested to be provided for your event by Legion members.
For Hall rentals or for more information contact President John McPhail at 306-867-9718.


Royal Purple
Meetings are the 1st Tuesday of every month at 7:30 p.m. at the Heritage Centre on Railway Avenue W. There are NO MEETINGS in January, February, July or August. Catering Services for community events are available. For more information Contact: Lila King at (306) 867-9325 or Marion Paradis at (306) 867-8019.



Scouts Canada
The 1st Outlook Scouts are a community organization which strives to provide a fun experience for the youth in the program. For more information or to join, Contact: Dave Alm at (306) 867-9418

Outlook & District Playschool
The Outlook & District Playschool offers programming for 3 and 4 year old children providing a fun, learning environment. Please visit our website
Sports: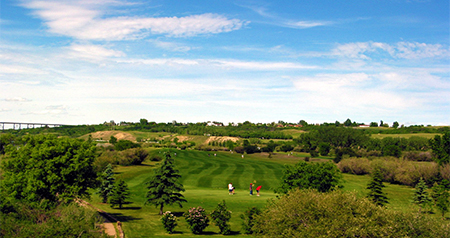 Riverview Golf Course
Located in the Outlook & District Regional Park, the Riverview Golf Club boasts a beautiful 9 hole golf course tucked into the South Saskatchewan Riverbanks. Become a member today!
Established in 1972, the Riverview Golf Course is located within the Outlook & District Regional Park along the bank of the South Saskatchewan River. Our course is surrounded by beautiful scenery and offers 3 sets of tee boxes with yardage ranging from 5618-6263, giving you a variety of options. In the clubhouse you will find our retail area with a great selection of apparel, golf accessories and more. We are a fully licensed establishment and provide light meals and snacks to take on the course or enjoy on our covered patio which overlooks the 9th Hole.
---
Archery Club
All ages are welcome to come and try out Monday & Thursday nights during January, February and March! If you are under 14 you must be supervised by an adult. You must be a Saskatchewan Wildlife Federation Member.
For more information visit our Facebook Page, or Contact: Hank Halseth at (306) 867-8392
---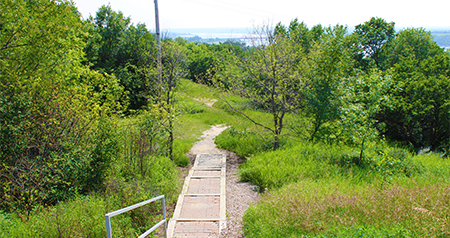 Hiking
Another great thing about Outlook is the beautifully treed hiking trails! If you enjoy nature or just enjoying getting some exercise, you must check out these walking trails which give you the best view of the river! Our hiking trails are a member of "The Great Trail" and weave through the riverside.
---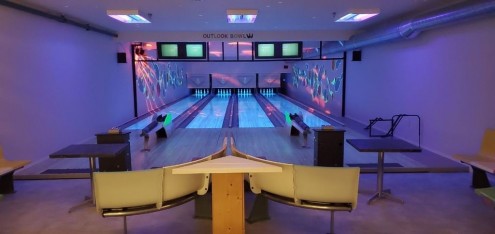 Outlook Bowling
This four-lane bowling alley is a great idea for a night out. This facility is located in the Jim Kook Recreation Complex.
For more Information, contact the Outlook Recreation Office by Email Phone: 306-867-9555 or book online on our website
---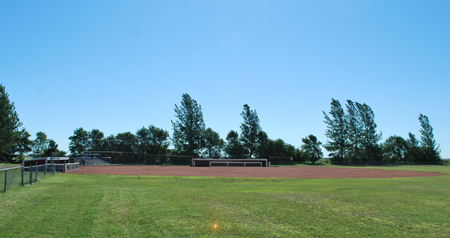 Outlook Sports Grounds
Outlook is home to 5 Shale Baseball/Softball Diamonds that would be perfect for hosting any tournament. Located behind the Jim Kook Recreation Complex these ball diamonds are in a prime location! For more information contact the Town of Outlook Facility Supervisor.
---
Sask River Tae Kwon Do
This group meets Wednesday Nights at 7:00 p.m. at the Outlook Elementary School at 515 Franklin Street, You are welcome to join anytime of the year. For more information Contact: Bill & Jean King at (306) 867-9419 or Darryl Turley at (306) 493-2747 or Brent Rafoss at (306) 856-2300
---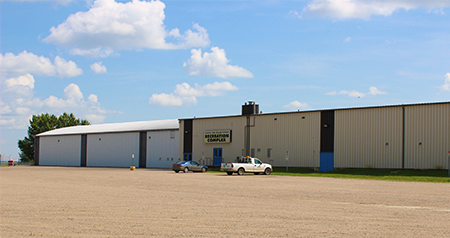 Outlook Senior Ice Hawks Hockey
Outlook is home to the Outlook Ice Hawks, a senior mens hockey team. The Ice Hawks keep the rink busy every winter with games on the weekends in the Sask Valley Senior Hockey League.
For more information visit our Facebook Page
Outlook Gymnastics
The Outlook Gymnastics Club offers recreational programming for ages 2-adult as well as a women's artistic competitive program for ages 6+. Classes run for two 10 Week sessions, September to December and January to April.
For more information, visit our website or Facebook page or reach out to us via email.
---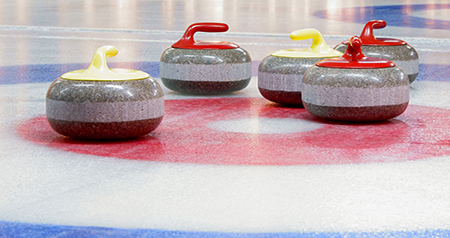 Outlook Curling Club
What a fun way to exercise! All ages and curling levels are welcomed! Whether you are a beginner or if you have curled all of your life, give this sport a try and see for yourself why it is such a popular sport! For more information contact Kirk Pederson.

---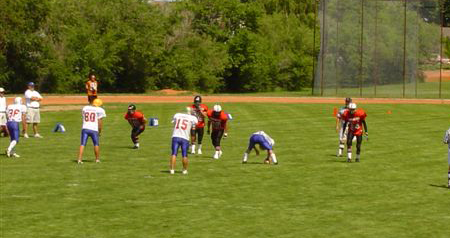 Outlook Amateur Sports
OAS offers all ages of softball, baseball and hockey. For more information you can email us or visit our website
Outlook Soccer Association
The aim of the Outlook Soccer Association is to promote healthy physical activity and to teach kids not only skills, but the important aspects of teamwork. For more information, visit our Facebook Page
Outlook Skating Club
This is a Learn-To-Skate program that features levels 1-6 and then moves on to figure skating skills. The programs offered are:
Pre CanSkate (learning to skate)- ages 3 and up
CanSkate (learning to skate, levels 1-6) - ages 3 and up
Star Skate (figure skating)
Power Skating - novice age and up
Synchronized Skating - level 3 and up
For more information contact us by Email, Visit our Facebook Page or check out our Website
Outlook Stock Car Association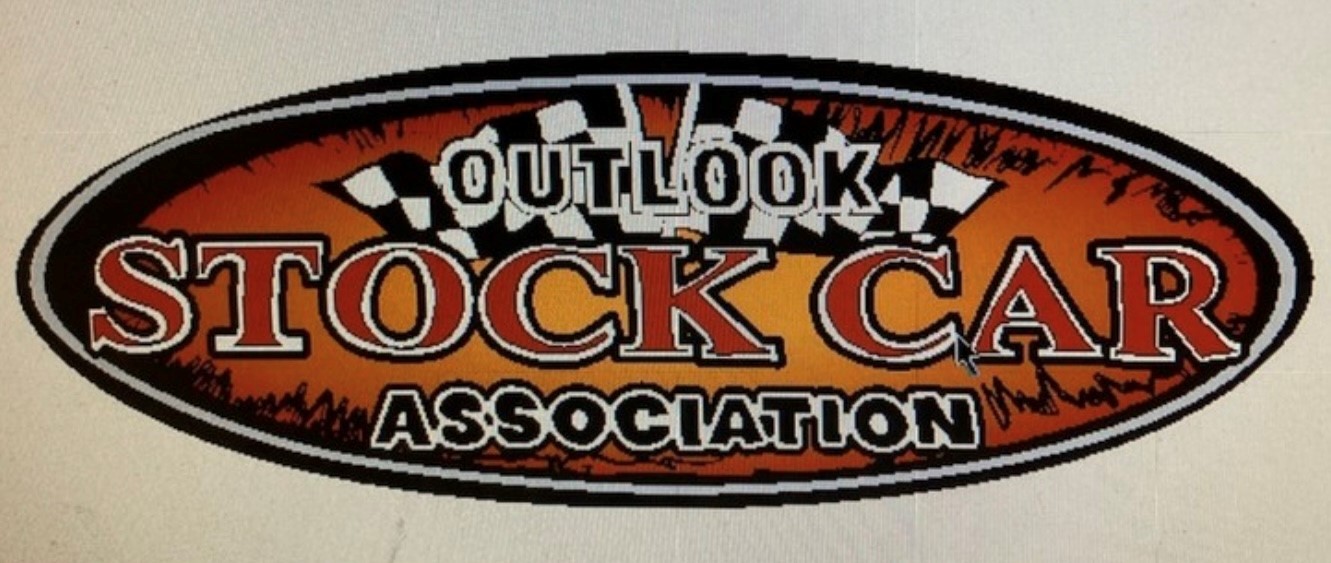 Races are held one weekend per month from May till September. In October the Fall Classic is held, it's the biggest race of the year. And is always held on Thanksgiving weekend. It's the biggest race on dirt in Saskatchewan that averages 75 cars from all over Saskatchewan and surrounding provinces. There is a playground for kids, free camping on site as well as beer gardens and full concession! We are a non profit organization that relies on volunteers.
For any questions please contact Lisa Badger 306-831-5668 Larry Pederson 306-867-7202


Outlook and District Wildlife Federation
Always welcoming new members. We meet every 2nd Wednesday of the month.
For more information visit our Facebook Page or Contact: Jim Drury